I'm a wee bit late on this but here goes:
I went to the Reno Rib Cookoff on Labor Day weekend (Friday and Saturday). But there was a lot of ribs to try, and the lines were huge! Saturday was the worst with waits of 15-20 minutes, so I only got to try 10 teams worth (plus there was cost consideration: $2 per rib. Yikes!). The best I tasted was last year's winner: Butch Luppenetti (the guy who beat Bobby Flay), though Johnson's put out some good ribs too.
The most fun I had at the event though was watching them film the "Barbecue Championship Series" for OLN (Chris Lilly's successor to last year's "All Star BBQ Challenge"). Got to hang out with BBQ legends like Ray Lampe, Byron Chism, Mike Davis, Johnny Trig, Bart Clarke, etc. and had 'em sign my hat: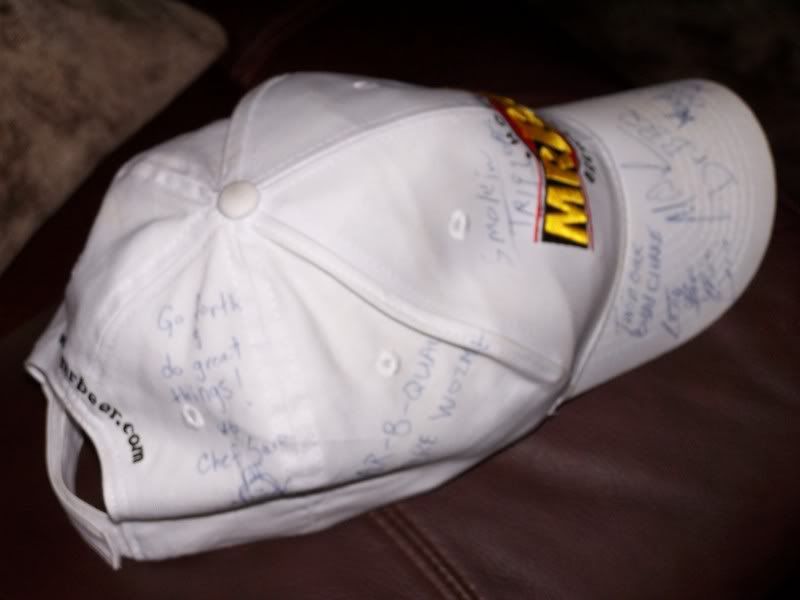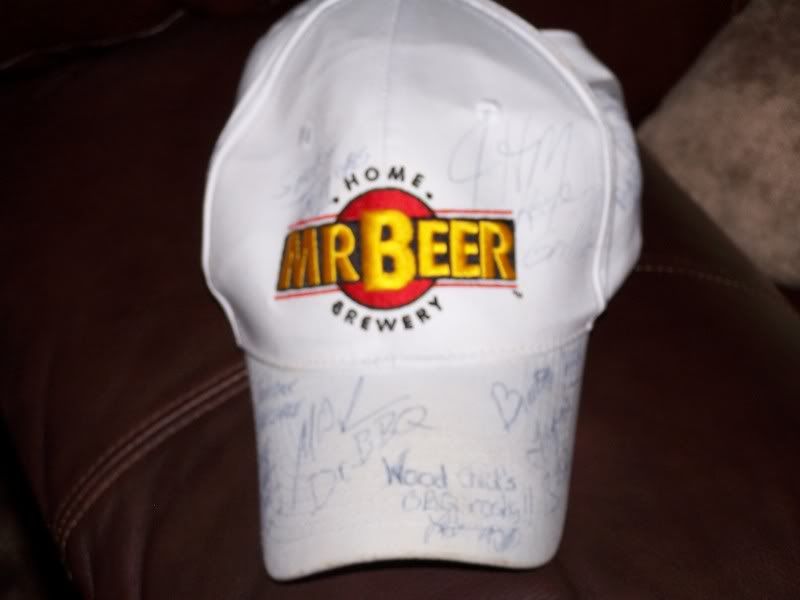 The competition was fun to watch and consisted of 3 cooks: a long one (like pork butt or ribs), medium (like tenderloin) and quick (seafood). The competitors knew before hand what they were cooking for the long and medium cooks, but not the quick cooks. The quick cooks were wheeled LIVE out in a shrouded tank and the contestants had to kill, prepare, cook and plate them for the judges within the hour. I saw them have to take on paku (a big, ugly fish like a piranha), and trout. The judges (Darryl Dawkins, Megan from Grounded for Life and some French Chef) really detested the paku and it was funny watching the cooks wrestle with those nasty looking fish. Of course, the best part came when a couple of the competitors passed out samples to the audience. Mike Davis' baby back ribs were the bomb and Johnny Trig's spatch cooked chicken was delicious. I don't want to reveal who won, but someone to watch out for is Sarah from "Hell's Kitchen" (who was very nice, BTW, unlike how she was portrayed on that show). One of the BBQers remarked in disgust that it was more of a "cooking" competition than a BBQ cookoff so she, being one of the few trained chefs, had an advantage in the medium and quick cooks. One of the other amusing aspects of this show was the cooks could bring any of their "specialty" ingredients they wished (like a rub or sauce), but they had to put it on the community shelf for everyone to use (and some competitors did use other's stuff). Some funny glares and side remarks abounded there (not to mention some trash talking amongst the BBQers). You may notice me in the audience wearing the white ballcap above and sitting behind Mike Davis (who gave me a sample of his "Lotta Bull" BBQ sauce). Watch for this show to air in November on OLN (if it will still be called that. They said they were thinking of changing the network name to "Versus"). I forgot my camera, (Doh!
) but Smitty from eggsbythebay.com took some pics:
http://eggsbythebay.proboards70.com/index.cgi?board=general&action=display&thread=1157136471
Overall, a great trip where I got to taste real competition BBQ for the first time and meet some really nice fellow 'cue addicts (in particular Mike, as noted above and Byron Chism, who gave me a sample of his "Butt Rub).