I just got this in the mail today from Denzel's. Someone sent me an early Fathers' Day gift!
Denzel's is a great hot sauce company in British Columbia, Canada, and they've won Scovie awards for several years as well as a number of other awards.
Their site is at:
http://www.denzelshotsauce.com/index.html
I love the 6-pack of hot sauces you can order. Denzel's has about a dozen sauces from mildly spicy to blisteringly hot, and all of them taste great. (In this case my daughter picked 6 of the ones she thought I'd like best and ordered them for me.)
Plus, from what I've seen all of their hot sauces are non-extract sauces, so this means they use habanero (or other hot pepper) powder to boost the heat rather than pure capsaicin extract. This means their sauces aren't artificially heated up by what's basically the same hot pepper extract they use in pepper spray.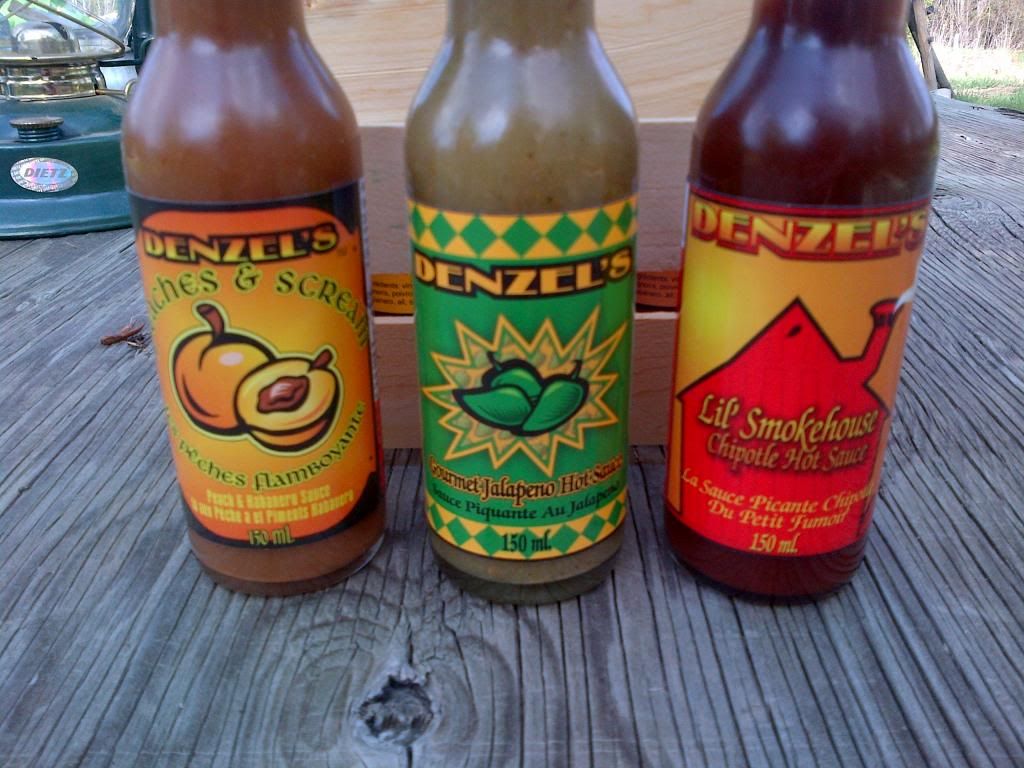 Let's start with the mild ones (and the Denzel's site rates them on a scale of 8 for heat):
Peaches and Scream

- A peach-based hot sauce (Heat Rating: 3 out of 8 )

Gourmet Jalapeno

- Pretty self-explanatory. (Heat Rating: 4 out of 8 )

Lil' Smokehouse

- Chipotle sauce made from applewood smoked red jalapenos. (Heat Rating: 2 out of 8 )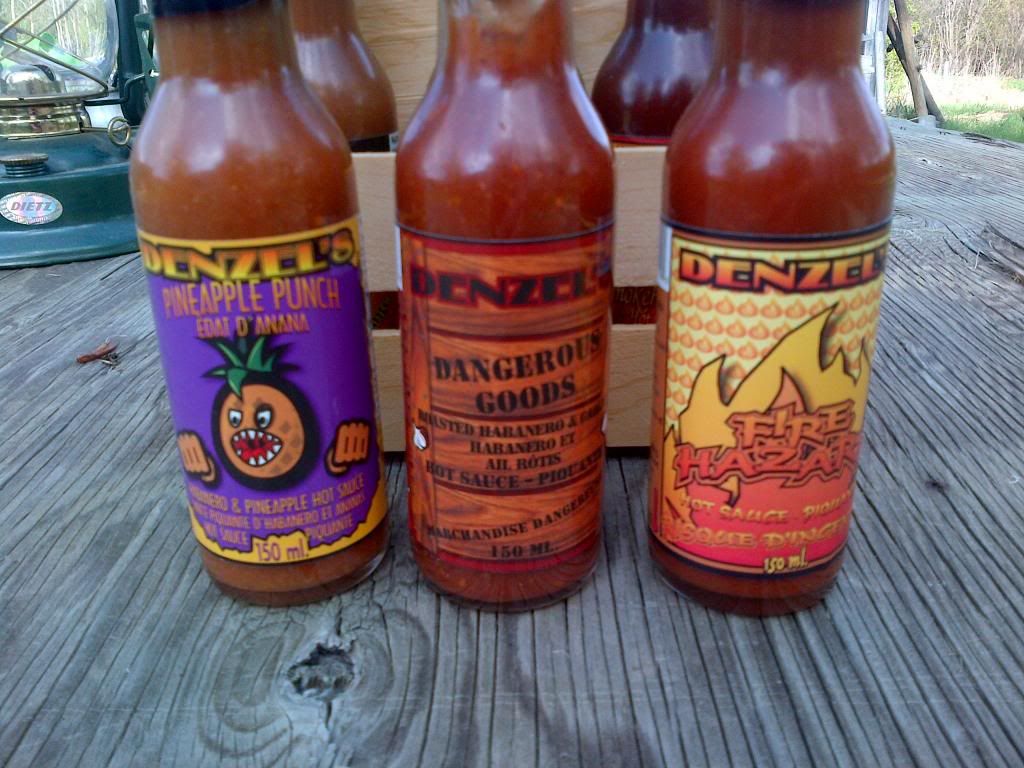 And now the hot ones:
Pineapple Punch

- A 3-time Scovie Award winner. It's habanero sauce with pineapple added, not the other way around. (Heat Rating: 6 out of 8 )

Dangerous Goods

- Habanero-based with lots of garlic. (Heat Rating: 7 out of 8 )

Fire Hazard

- Basically the above with extra habanero powder. (Heat Rating: 8 out of 8 - think "Daves Insanity" or "Blair's Sudden Death" heat levels)
To keep things in perspective, Denzel's Gourmet Habanero sauce is a 6 out of 8 for heat. So that means the last two on the above list are hotter. I'd bet they're hotter than the Grace habanero sauce I normally use when I feel like being self-abusive and masochistic.
I'm really looking forward to trying out the other 5 of the sauces they currently make. Apparently their BBQ sauces and other products have also won a number of awards too.
I'f I'm still standing after trying these out I'll let all of you know how they taste.