Have you ever wondered what happens when you take a de-brined corned beef up over the 160 mark, to like say 195 degrees? I did, and this is what you'll get to see here. I began with what was labeled as a point cut, but it sure looked a whole more flat cut to me. That's alright, as point is priced cheaper than flat anyway.
Away we go now... Slathered it with the horseradish dijon mayo, and added the rub fixins that came with it along with plenty of coarse pepper (pastrami style of coarse).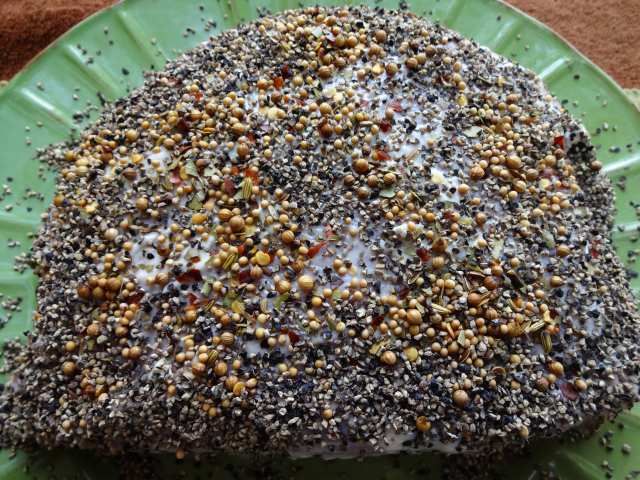 I went with a mesquite smoke this time, as I was out of hickory. Here we are several hours into the smoke:
After foiling. Temp hit 195 at coolest point.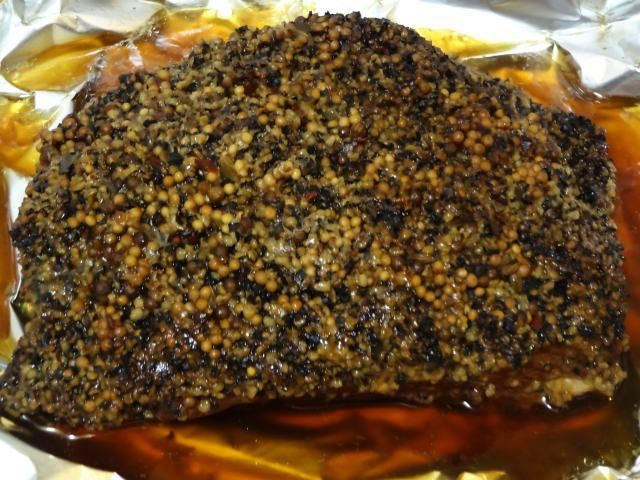 Okay, I was curious to see if this here corned beef would lend itself to pulling. Ha ha ha, ain't no way in tarnation!
I'm a thinkin' that a real point cut could, but not this flat one. Sure was moist and tender though. So I sliced it up instead.
***
Edit note:
I'm aware now that this really is a point cut, as evidenced by the grain pattern.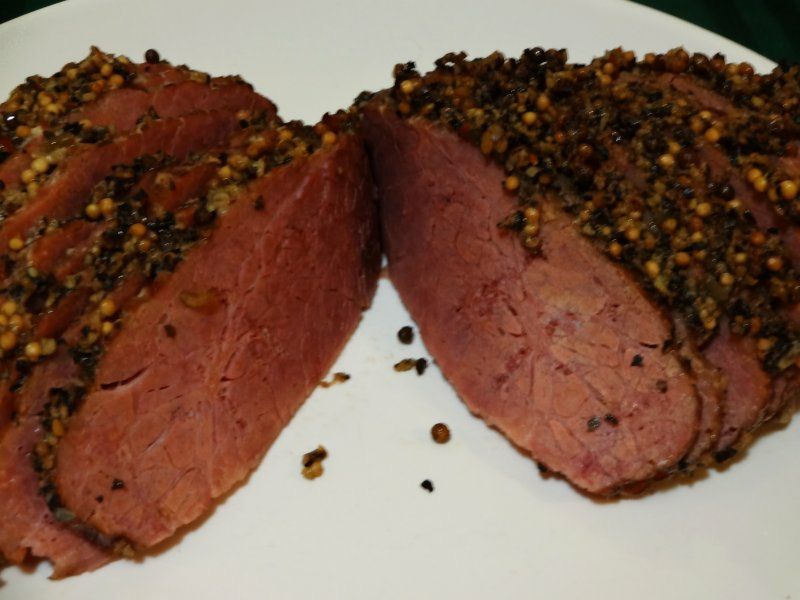 Let's see... what to do with it?-- How about a kind of grilled cheese Reuben like sammy. I toasted and butter fried some Bavarian rye bread, added some Deluxe American cheese, and topped the bread with Thousand Island dressing.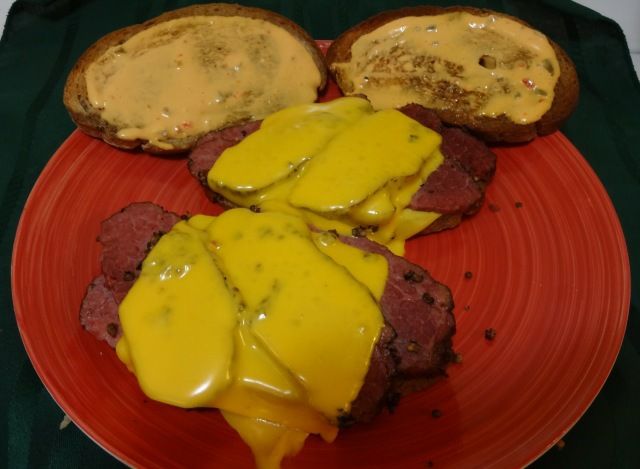 Added some of my green sauerkraut...
And plated it. I found that the extra heat and temp by no means hurt it. In fact, I believe it helped take the flavor up a notch. I could have gotten it nearly indistinguishable from a pastrami had I worked a lot of minced garlic into the rub. I feel so hypocrit posting this after all my recent chatter about trying to eat wholesome. A few more decadent posts, and I'll be back on track again.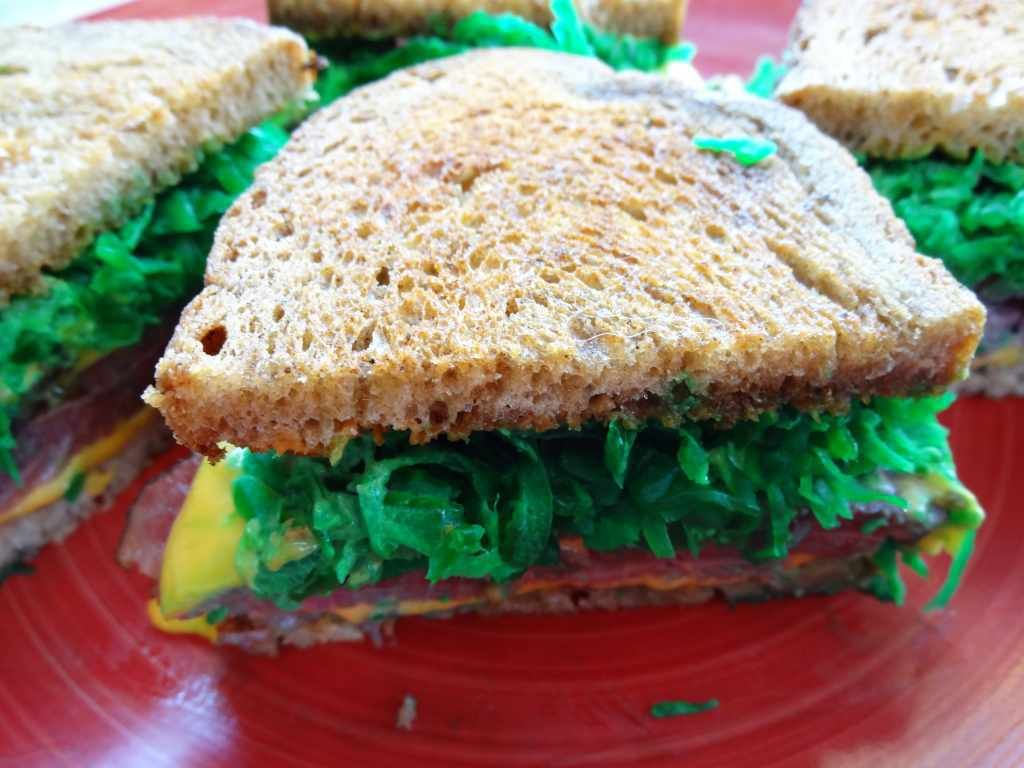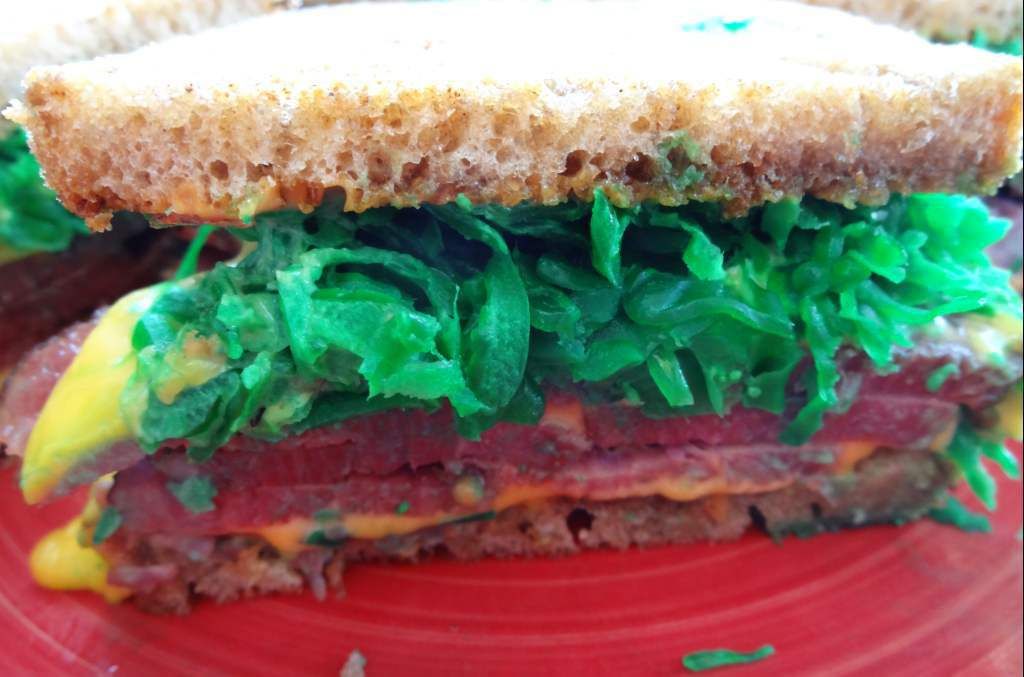 Oh, made for a nice breakfast treat, too. Not quite corned beef hash exactly, but close enough for a beer.