Some friends of ours came up for the weekend. They're thinking about moving from Austin to Dallas. The guy was actually my college room mate. Anyway, word got out and suddenly a bunch of our mutual friends wanted to see them and we were lookiong at 17 people for dinner. Mrs. G is still out of town and a bit bummed that she missed it all.
Anyway, I started out by making a
chocolate pecan bourbon pie
. We've made it before and it was a hit. Since I just got an Adjustable Rig from the Cermaic Grill Store for Christmas, I wanted to try using that instead of the placesetter. Turns out the AR works just fine.
Once that was done, it was time to start on the chicken. Again using the AR and using the oval stone, I started with 11 thighs on the next level up, then 1 thigh and a bunch of legs on the top level and finally finished with more legs on the BGE grate extender on top of that.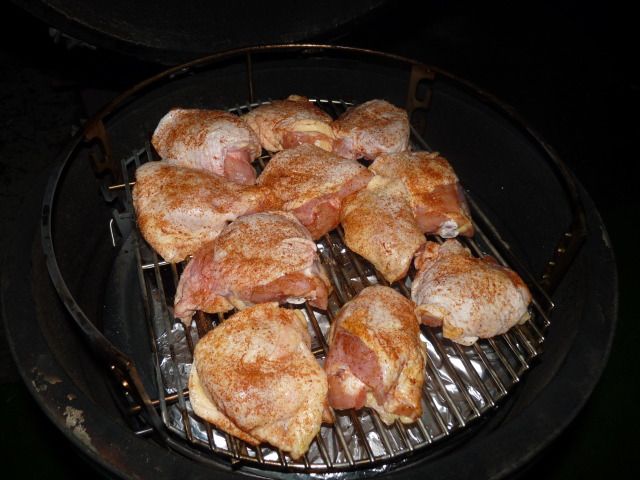 That's a whole mess of chicken and let me tell you, it really drops the temp (come to think of it, the dome thermometer might have been hitting a piece of chicken and was throwing it off a bit).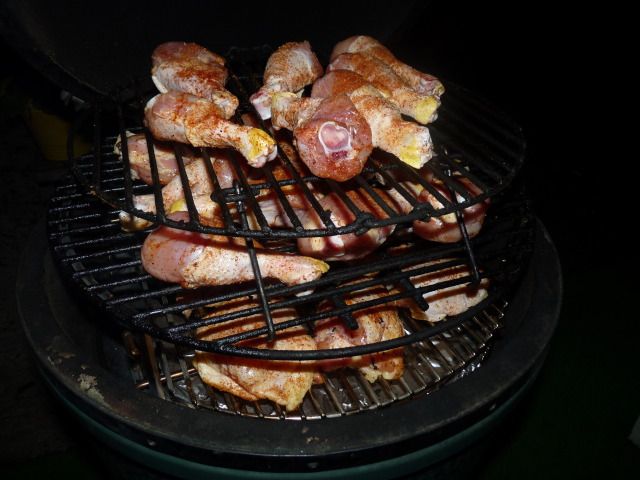 Regardless of the temps, the chicken took a lot longer to cook than I was expecting. Not sure how long it took, but it gone done eventually. Was served up with some twice baked taters and some green bean, onion, bacon casserole thingee that people brought over.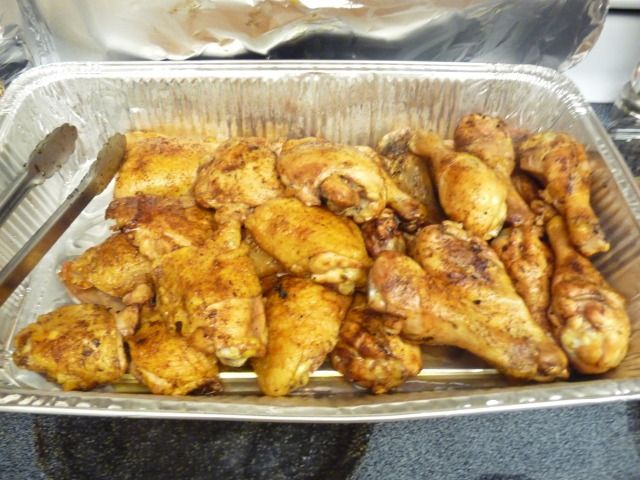 Less people showed up than we were origianlly told, so we have a bunch of chicken left over. I ate chicken for lunch and dinner Sunday, and Mrs. G had some for dinner as well when she got home and there is still more left over. Thinking about chopping it up and making a pot pie with it tonight.
And on a side note, take a few moments every once in a while and check the calibration on your thermometers. I hadn't done it in I don't know how long. Turns out my Large was reading about 30F high, and the MINI (which I never got around to calibrating) was spot on at 212 in boiling water. Couldn't hurt and doesn't take long.