I was stuck... I wanted to set down to dinner for game 2 of the World Series using my pulled Chuck. But I did not want to miss game time going through all the steps of making tacos the way I normally do. So I decided I was going to prep ahead except for a last minute blast from the nuclear incinerator. This called for more of a soft taco, or rather, burrito type approach.
First I'd like to show you the hot sauces I use for this application. I believe different sauces shine through in different recipes. The Guacamaya "authentic" hot sauce is my go to for adding to hard shell tacos. The Guacamaya "habanera" is for setting a scorching heat on the meat, and the Pico Pica is wonderful for adding more flavor into burritos. So much for specialty sauces. Here they are.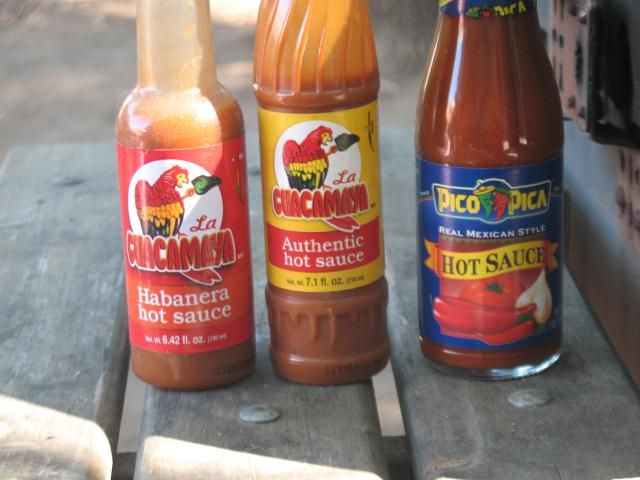 Now I've got to prep the Chuck meat. So I break out the habanera and mix that along with some carne asada seasoning into the meat. That just floats my boat, I so enjoy it that way!
Then I have to prep the sides (i.e. "taco stuffings", if you will)--shredded Romaine, cilantro, tomato, cheddar cheese, and avocado. Those are homemade refried black beans you see in the middle.
Next step is to start rolling the burritos. A few fresh, crisp onions are added for good measure.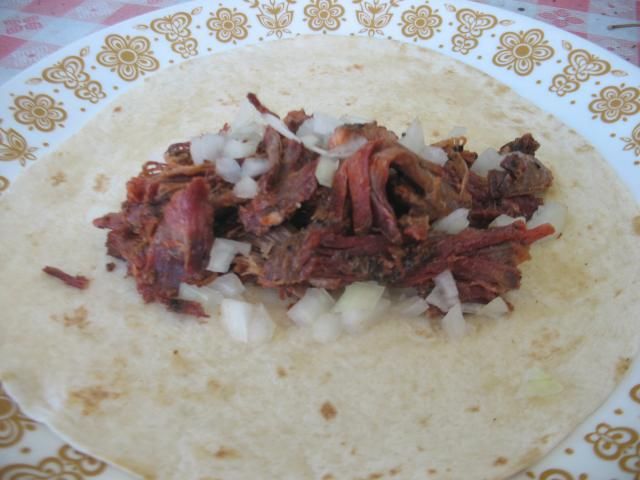 There, all I need to do now is nuke the burritos and beans (separately of course), return those to the salad plate, and I'm good to go. I can do all the "taco mixing" in my mouth. I had a touch of sour cream as well. Great for managing flare-ups, if you know what I mean. I've got to tell you this was a seriously delicious meal.