Sunday
Sunday was pork tenderloin day. I'd been looking through my cookbooks for ideas but then saw an episode of
America's Test Kitchen
on Saturday that featured a stuffed tenderloin.
It wasn't this pink, though...this might've been taken early in the morning.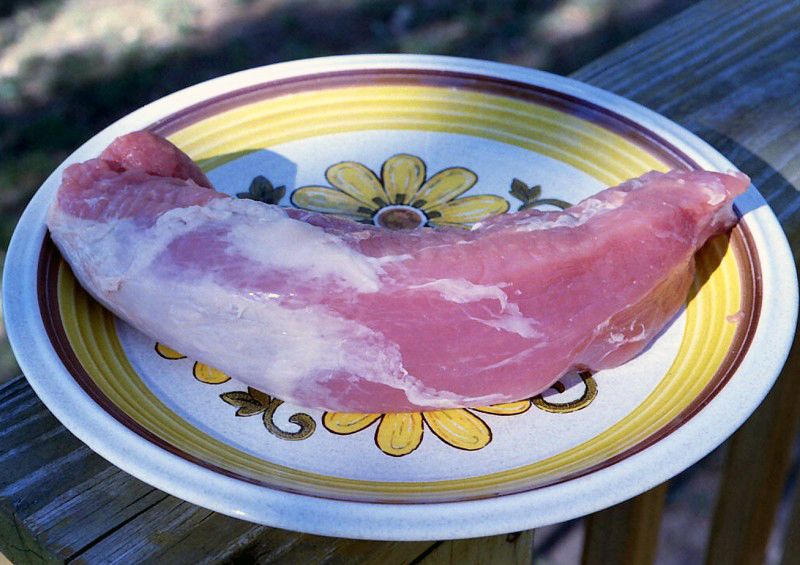 The filling was kind of a tapenade but with sun-dried tomatoes in addition to the kalamata olives.
One of the tenderloins was butterflied, pounded to about 1/4", stuffed, and rolled while the other was just tied for uniformity and seasoned with salt and pepper. The color of the pork here is more accurate.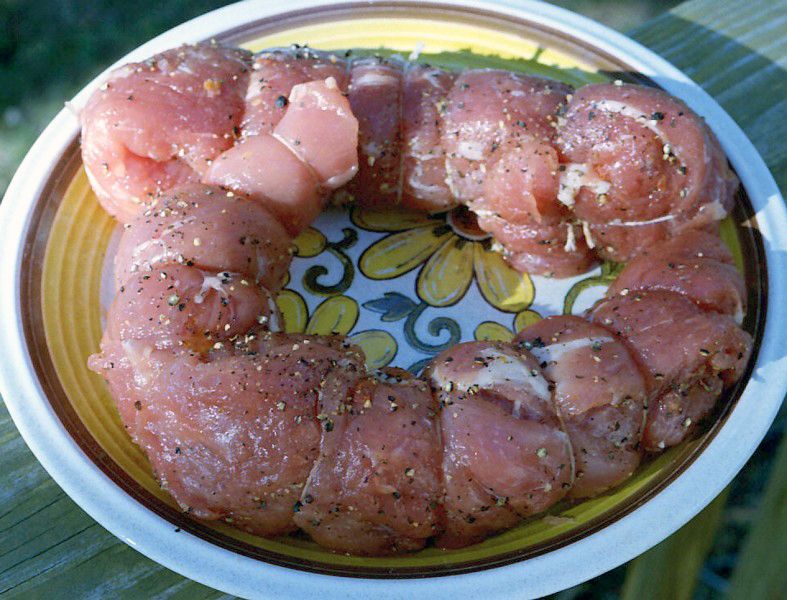 I seared them over lump charcoal and then finished them with indirect heat.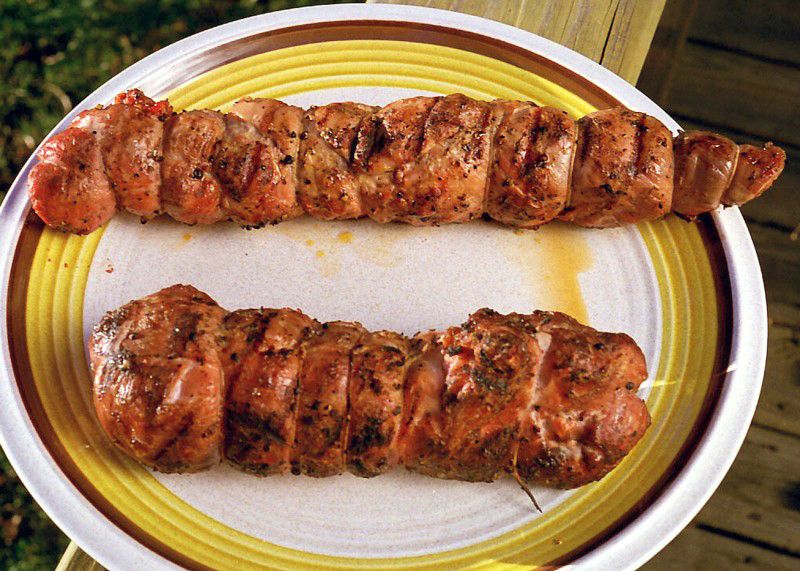 The setting sun adds a warm tone. The stuffed tenderloin had good flavor and the tomatoes added some different notes, and I had processed the filling until it was fairly smooth because I don't care for big chunks of tomato. And tapenade goes well with football.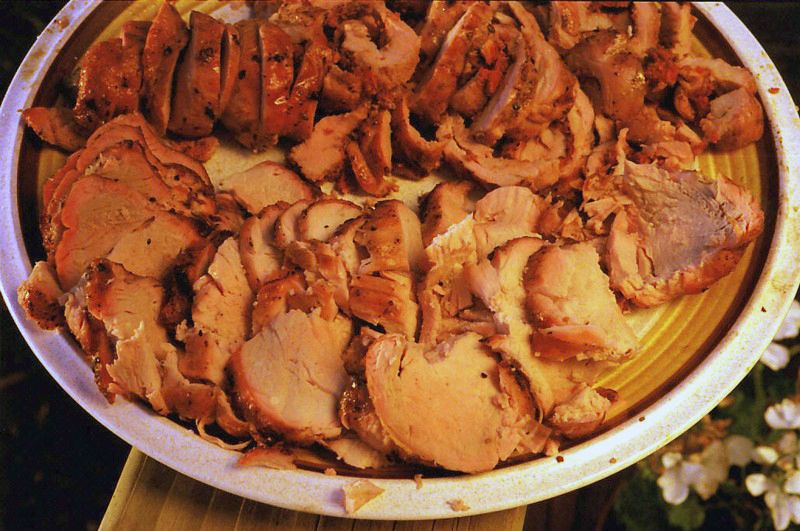 The plain tenderloin was sliced and used for sandwiches during the week. Here's one I made with some Italian pita bread and mayo.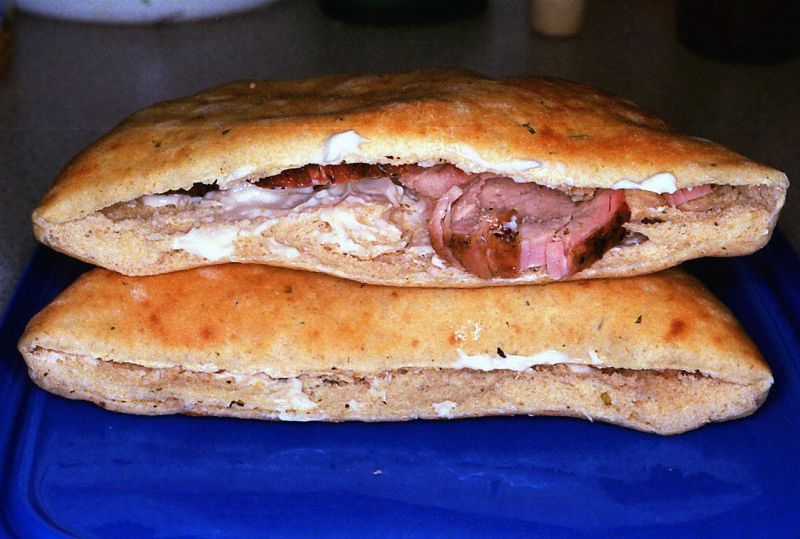 Monday
We hadn't had chicken for awhile so Monday I did a little websurfing and found
this recipe
. All I had to do was stop at the store on my way home to pick up the chicken and even though the recipe calls for boneless, skinless thighs I went for the real thing.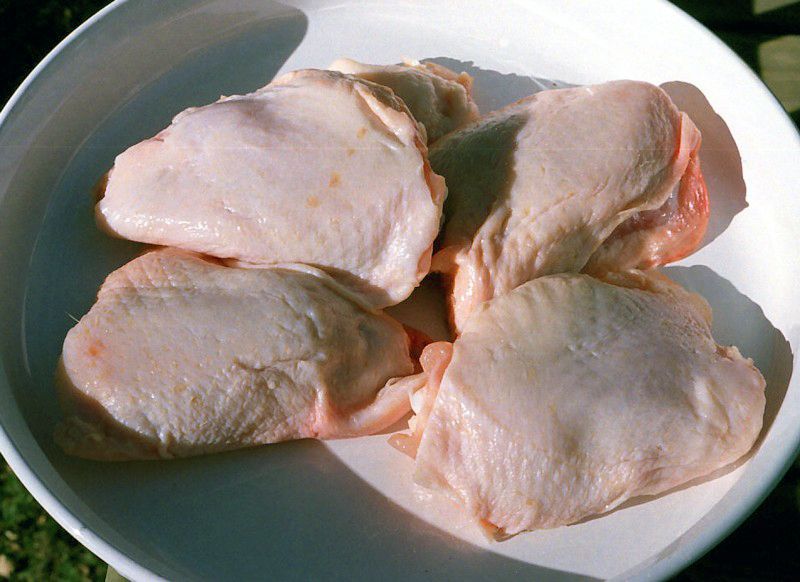 Since the chicken was only going to be in the marinade for an hour or so I left the bowl on the kitchen counter.
No searing here, just indirect grilling until it was done, and one piece came with some extra skin and fat.
The marinade added a lot of good flavor and the chicken was a definite hit with the family, so I'll be making this one again...with more than 4 thighs!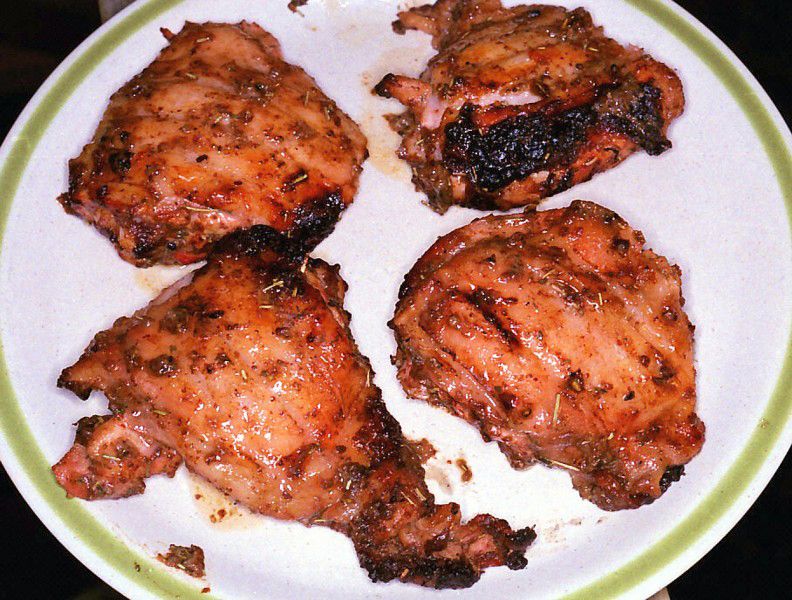 Thursday
After a couple of days off I wanted to grill last night and since I was cooking for myself I could be a little creative, so I decided to make some beef satays with Thai/Asian-influenced flavors. The bottles are sesame oil and soy sauce and this cut was labeled "butter steak".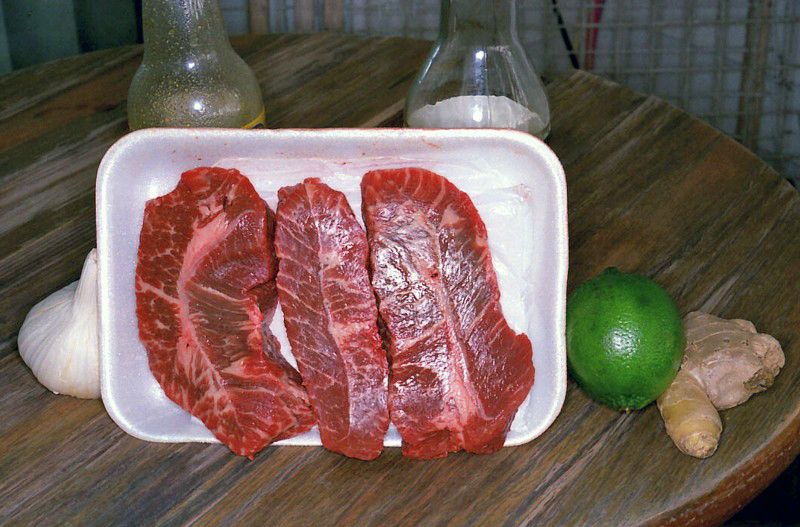 After basically putting together a sesame-lemon-soy vinaigrette I went a little off-course and added a spoonful of Dijon mustard to hold everything together before I poured it over the satays.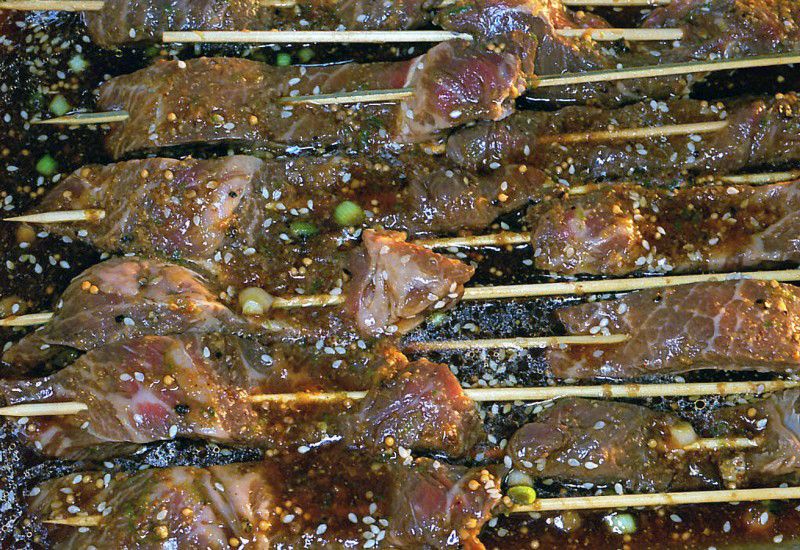 The beef marinated for about 1:45 and I set up my 26" Weber grill because I'd need as much space as possible, and once again I used lump charcoal. The fire was good and hot so it didn't take long to cook the satays, and the shape of them meant that I got a nice mix of doneness.
I didn't cut the beef really thin so even though the outside was done the inside stayed nice and pink.
All gone! Even though I didn't add any salt some of the beef was a little salty so a reduced-sodium soy sauce might've been a good idea. The sesame flavor was rich and nutty and the lime added some brightness and a nice citrus tang, and I couldn't really detect the mustard so apparently that didn't screw it up.
All in all it was a pretty good week for eating. Tomorrow I'm giving myself a break and letting someone else fix lunch, but I just might be back at it come dinnertime...
Brad