I've been interested in Churrasco grilling for a long time and finally had a chance to try it. I have a multi rotisserie grill, but after I did my research, I found out that many home cooks actually don't use these modern rotisserie grills that you see in restaurants like Fogo De Chao. They actually use an open style grill similar to Mangal (Kabob grill), but has multi levels to cook at different temp simultaneously. I also wanted something more interactive, since rotisserie grills do all the work.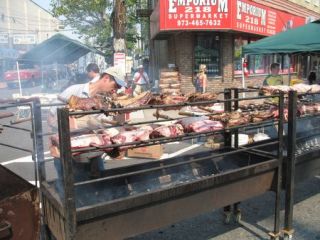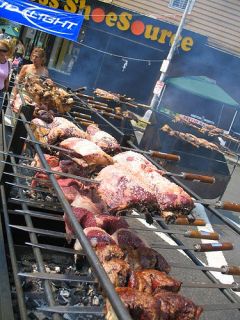 So I rigged up some thing similar with three level of cooking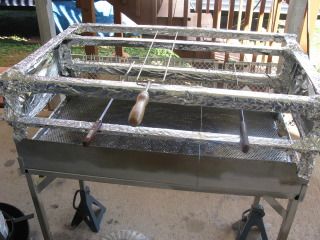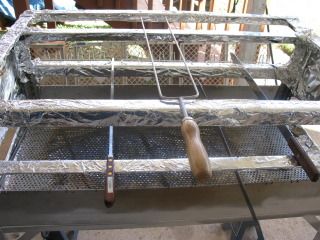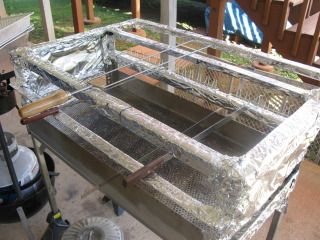 I also added these shelves hangers to help hold skewers on their sides so I could position them where I could cook in 360 degrees fashion.
The main body of the grill has these slits that allow the same application
I started with chicken drumsticks and pork sausage. The chicken was seasoned with rock salt and a little of black pepper.
Grill Cam
Added chicken hearts- I know, not a popular thing around here, but very traditional in Brazilian BBQ. I marinated them in a mixture of garlic, cilantro, red wine vinegar and some spices.
I added some eggplants and mushrooms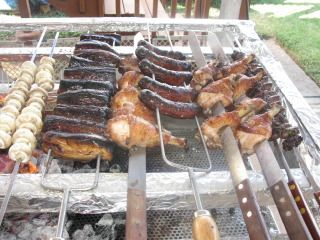 I couldn't find Sirloin Cap, so I used NY strips instead. They're similar in shape and flavor.
Seasoning is minimal with coarse salt only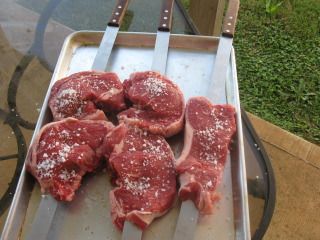 The steaks on the grill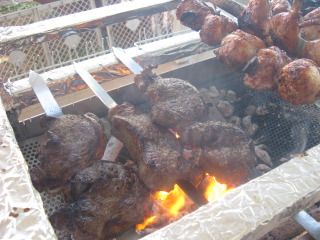 The cooking is done
Dinner is served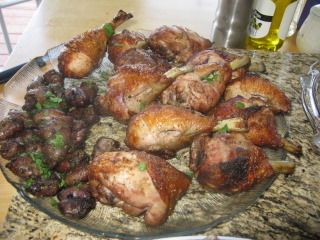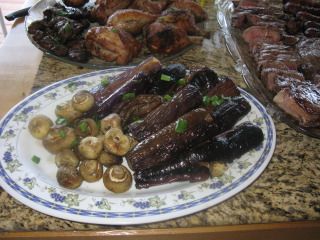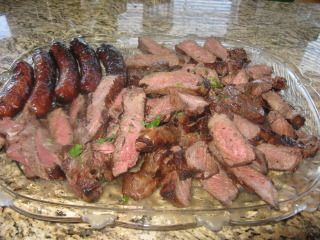 The flavor was awesome and was very similar to the meal I had at Fogo De Chao. It's really amazing how much flavor the chicken and meat had with just addition of salt. I think it allowed the charcoal flavor (lump of course) to come through in a manner I did not expect. After all these years of marinating and experimenting with different spice mixtures and rubs, who knew that all you needed was salt, charcoal and high heat to get an awesome flavor and very juicy meat. I think I have new favorite food
**Special Thanks to Steven for including a generous amount of info on
Brazilian cooking in his BBQ Plant book**