We had originally bought some fajitas Sunday to cook up Monday night, but life got in the way again as we had a bunch of things to take care of and my stomach wasn't really feeling all that well. Didn't think fajitas were going to help it, so we put it off till last night. Yeah.....I said we
bought
fajitas. Once you get south of Dallas, there's a grocery chain called HEB that pretty much rules Texas. They have some really good prices and their pre-marinated fajitas are pretty darn good. I know of plenty Mexican families from back when I lived in Corpus who quit making their own fajitas when HEB came out with these years and years ago. Well Sunday, we were in Central Market (a gourmet grocery store in the DFW area owned by HEB) as Mrs. G was looking for some Hatch chilis and we picked up some of their pre-marinated fajita chicken thighs. The plan was to throw them on the Egg direct at 450 with some mesquite chips (nothing says South Texas like Mesquite), but I realized we were out, so I used some Hickory instead.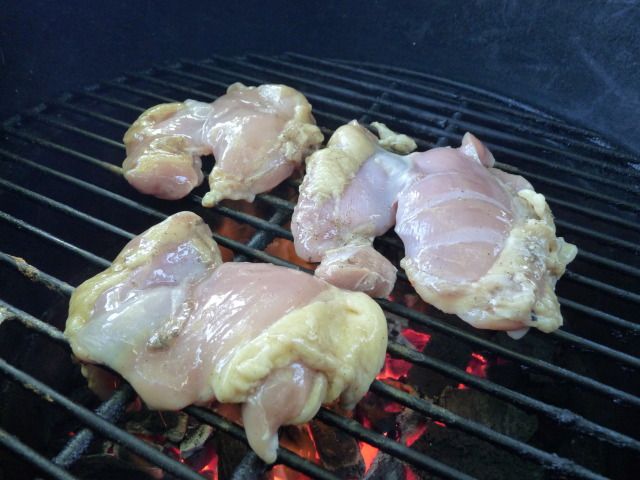 Gave 'em a few minutes and flipped
Served 'em up on some Hatch chile tortillas along with onions, red bell peppers,some Monterrey Jack cheese and a dab of sour cream.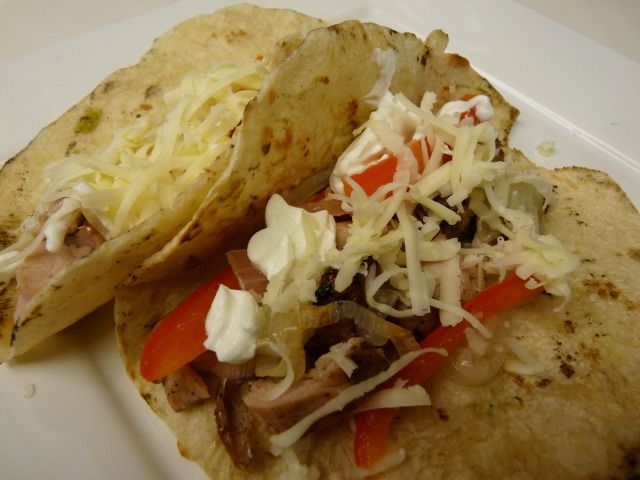 Simple, easy and quick weeknight meal. For some reason I can't for the life of me get a good plated up pic of fajitas or tacos. Not sure what my deal is. I realized this one needed a bit of green to it (and I asked Mrs. G to chop up some cilantro while I was grilling, but that didn't happen.
). Oh well, still tasted good and that 's all that matters.