Honoring the "One Hamburger Summer" spirit, I realized a chance to fire up a new alternative for lunch today. First, I should mention that I started with the Jennie-O prefab turkey patties. And I'm here to tell you they're actually quite good! Found 'em on a super sale, and they're great when pressed for time. It was just a winning proposition.
I should also introduce a couple new characters in this scene. The first is Bubbies brand sauerkraut. This kraut has the distinction of being raw, not pasteurized, meaning it contains live active cultures, must be kept refrigerated, and is extra wholesome and flavorful. So crispy, beats any other canned variety out there. If you haven't tried it, you'll be glad if you do. Here is a pic: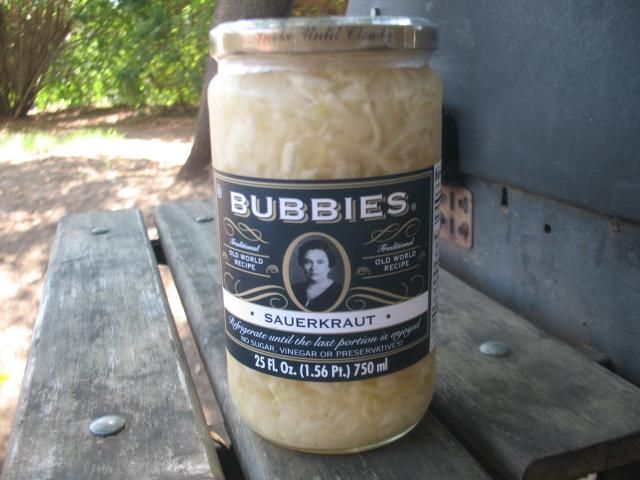 The other character is Bubbies pickles. They are a bit more expensive than some other varieties. Curiously, they have the distinction of tasting like they were pickled in pastrami seasoning! Now these may not have quite the snap or crunch of some other offerings, but they sure are high on flavor and go so well the kraut. The pic: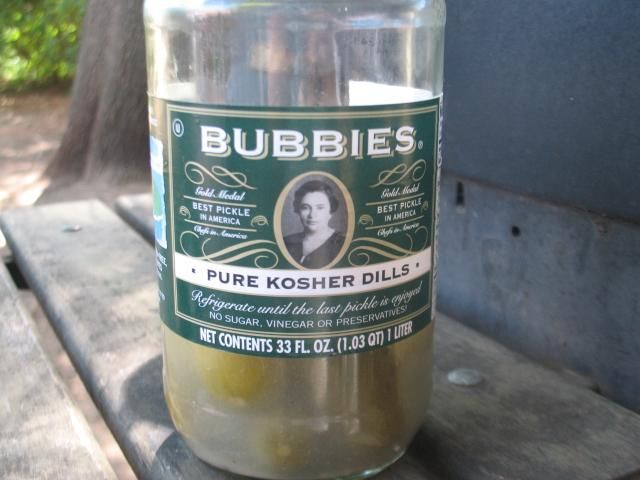 Out to the pit and on with the cook. Soften up some red onion strips while I'm at it.
Final touch with the Deluxe American cheese, onions, and toasted buns. Were it not for the cheese, these finished burgers would be extra low calorie and wholesome. Well, (9 out of 10 ain't bad).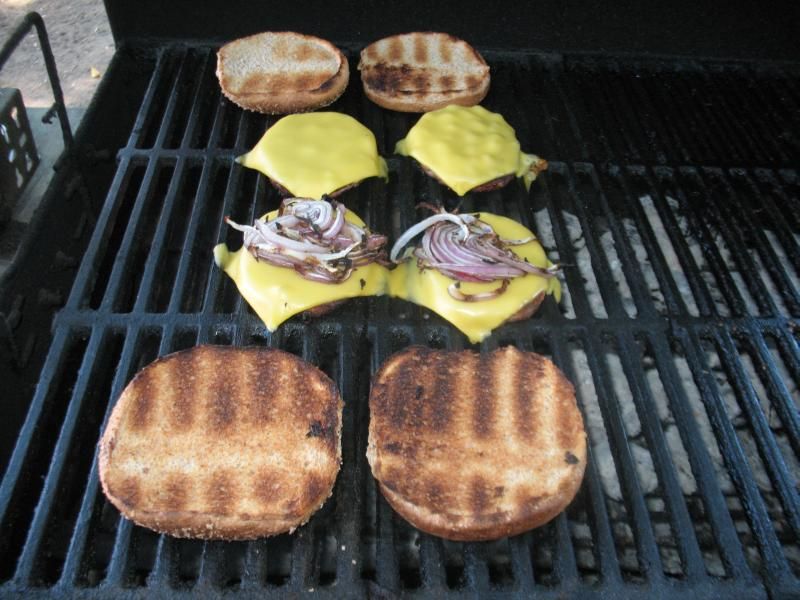 time to start plating these bad boys. I added the tomatoes, pickles, and yellow mustard, all on 100% whole wheat buns. I could have gone with the Dusseldorf mustard, but I was feeling more American than German today. Besides, the cheese was American!
Lastly, time to pile on the sauerkraut, cap the bun, and stretch open the mouth. This burger had a decidedly wholesome and satisfying quality about it. And that's my added burger offering for the hamburger summer. This may possibly be my last post for a while, as I confess to starting to wonder why I make the time to post when forum participation is at an astounding low.