I don't usually crave spicy food, but every now and then, some hot wings are in order. On this day, I was torn between lemon pepper and hot wings and decided to do a combination. In addition to combining these flavors, I decided to cook them two different ways. The spice mixture consisted of the following:
Ground together in spice grinder:
I then seasoned the wings liberally and tossed them onto the smoker with some oak:
Fresh off the smoker at 350 degrees: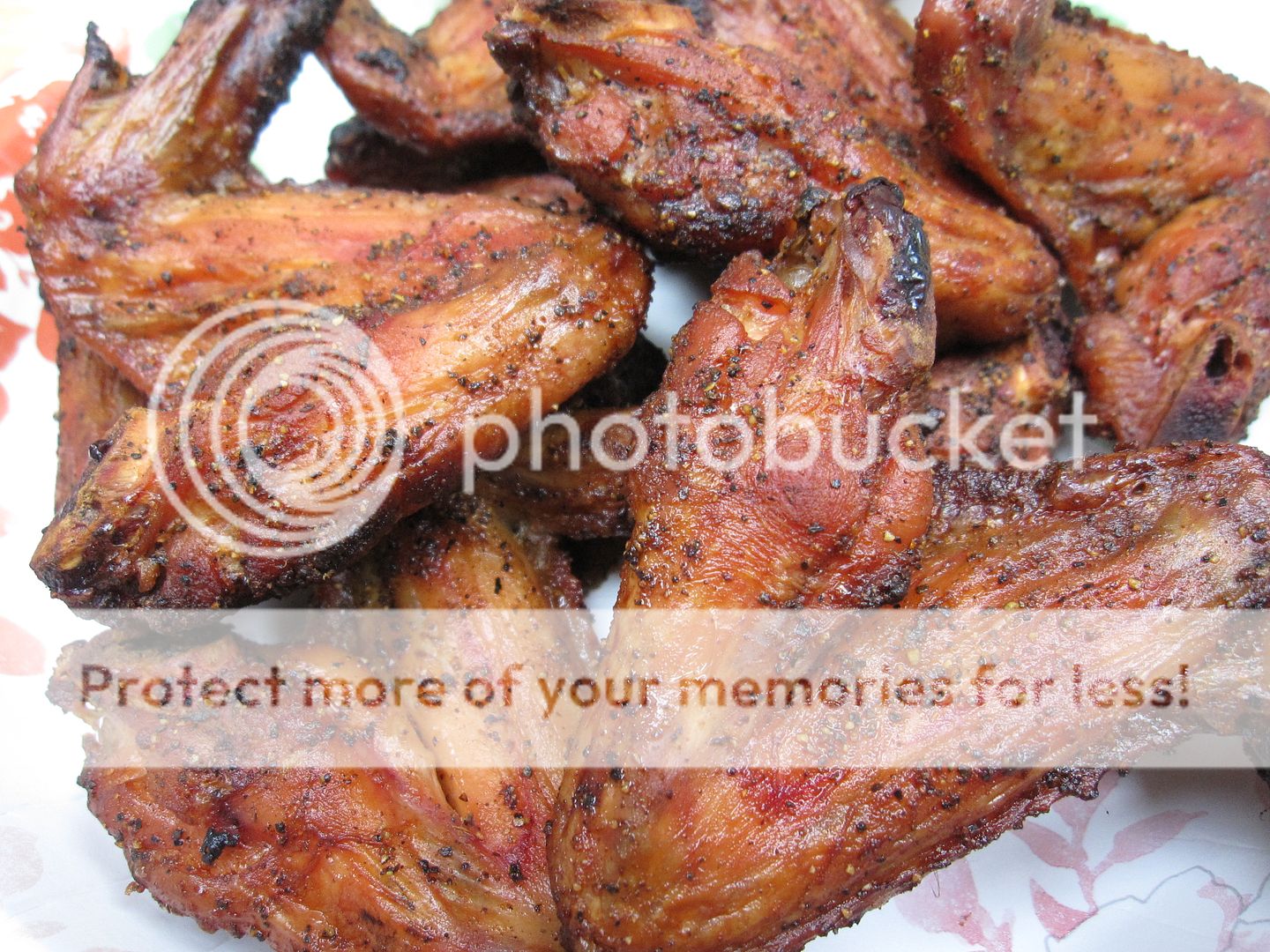 Lunch is served:
That's a winning seasoning mix--zesty with a huge kick. The wings were also nice and moist, and the skin was crispy.
For dinner, I decided to try applying a crunchy seasoned coating to the wings. I started off by cutting the wings and seasoned them liberally with the habenero death dust, letting them marinate for 8 hours:
The crunchy coating was made with crushed corn flakes, panko bread crumbs, and lemon pepper seasoning:
The crushed corn flakes and panko bread crumbs were coated with Pam and then seasoned with lemon pepper:
The marinated wings were dipped in an egg wash, then coated:
As a side, I made some garlic scalloped potatoes to put on the smoker. Made some bechamel sauce:
The sauce was layered between thinly sliced potatoes:
Chicken and scalloped potatoes on the smoker:
I know I took a few dinner plate shots, but they managed to disappear from the camera. Got to be careful with those camera buttons. The scalloped potatoes were awesome. The chicken, while perfectly golden brown and seasoned, were crunchy as hell. I mean, if I had expensive dental work, I'd have had a heck of a dental bill. Going to have to go back to the drawing board with that one. Perhaps a lighter, more finely ground, Shake-n-Bake style corn flake and panko coating would fair better.
For dessert, I decided on a smoked apricot-peach frozen yogurt and smoked nectarine crumble combo. I hate chunks of frozen fruit in my ice cream, so the smoked fruit aspect of the frozen yogurt came from reducing fruit nectar on the smoker, using apple and cherry wood:
Some of this smokey, fruit nectar reduction was added to some greek yogurt and heavy whipped cream:
Into the gelato Pro:
The nectarines were sliced, coated in cinnamon, allspice, nutmeg, cloves, and brown sugar, then left to macerate. They were then placed on the BGE with cherry and apple wood:
Made the crumble topping and covered the smoked fruit:
The smell of this crumble cooking was unbearable. Finally, dessert was served:
The smoked apricot-peach frozen yogurt reminded me of a dreamsickle--truely refreshing. The warm, buttery rich, nectarine crumble was right at home with the frozen yogurt. Definitely a match made in heaven.
Good eats.