I'm sure some of you have been waiting for this after my tease. but we made up 6 lbs of Texas Hot Links this weekend (and 10 lbs of Hot Italian Sausage, but that's another post) I used a recipe from Kevin Taylor, the BBQ Guru, which can be found online if you goggle it.
Started with this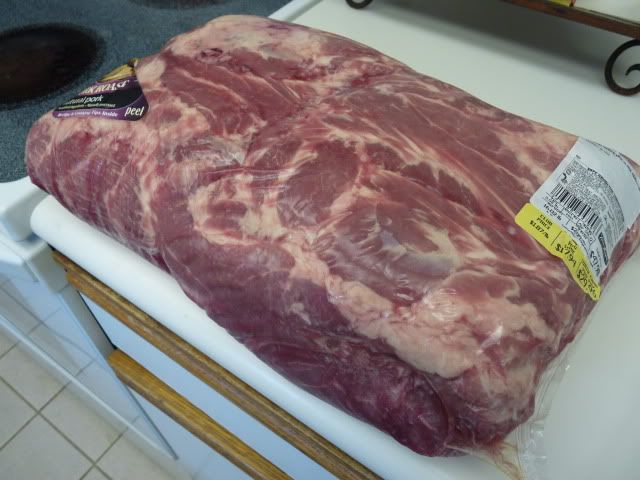 Ground it up and turned some of it into this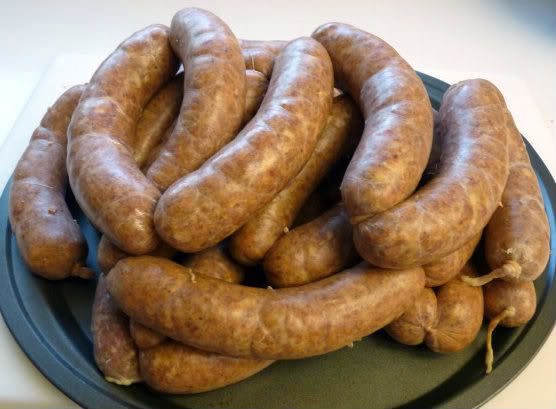 Then threw it onto the Egg at 130 F. Yep 130! Used my Auber Instruments Pit Controller to keep it going. and after one hour we had this.
Then 140 for another hour and then for the next hour and 40 minutes slowly bumped it up to 250 in increments until we hit 160F internal temp and we were left with this.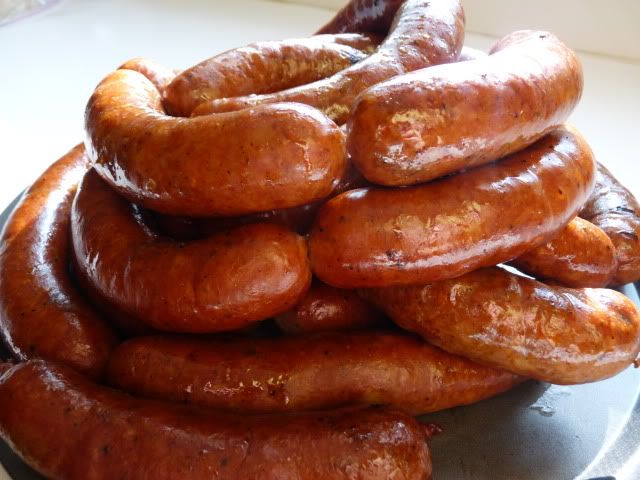 Let me just say, this was some HOT SAUSAGE!! Not like an overwhelming burn where you couldn't taste anything else. And more of a back of the throat burn then lighting your tongue on fire. I could definitely taste the garlic as well as the notes the herbs gave it. WE like spicy food, but Mrs. G thought we needed to tone it down on the heat. Maybe all the black pepper, red pepper and cayenne pepper was just a bit too much. Mr. and Mrs. A, also agreed that is was good, but the heat could be toned down a tad. So next time, and there will be a next time, we'll bring the heat level down a bit, but for a second attempt at sausage, not too bad. And we have plenty left over, vacuum sealed and frozen for later use.
It took me a long time to get the write up done and there are tons of pictures there including the recipe. Please click
HERE
if you would like to see more info on how we did it. Thanks for checking it out.