Last nights dinner was a pretty simple one. After work, I came home and mowed the yard and then started on seasoing my new wok that I got last week. I was seasoning it on the Egg at about 400 F. Rub it with some peanut oil, heat for awhile, take it off to cool and repeat a few times. Not quite black yet, but I figure a few cooks will take care of that.
Figured since I had the Egg going, might as well cook dinner on it. Dug through the fridge and freezer to see what we had on hand since I didn't feel like going to the store. Ended up with 4 chicken legs. Rubbed them down with my ole favorite Stubb's rub that has been neglected lately and threw them on. Normally, we aren't real big sauce fans, but for some reason last night, we both wanted sauce on the chicken. You know....like the kind of bbq chicken you might have grown up on or were served at church after service or a picnic in the park. So towards the end of the cook, they got slathered in some Stubb's BBQ sauce. Was served up with the last of a bag of french fries I found in the freezer, some broccolli and cheese and a little salad on the side. Came out just right. Sometimes is pays to go with the classic way of doing something.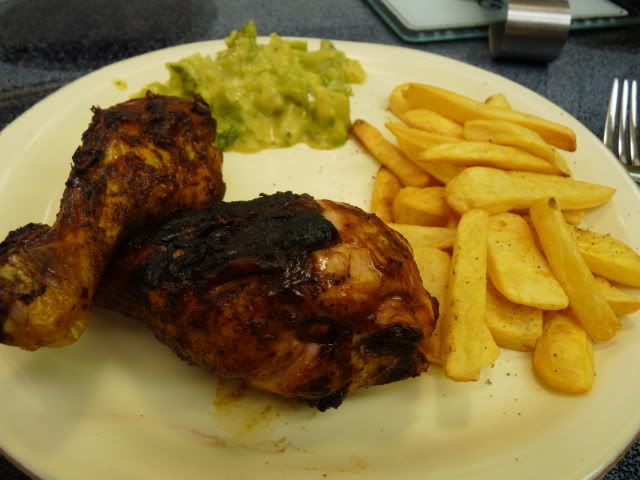 Sorry for the bad pic. I knew this wasn't going on the blog and at first it wasn't even going to make an appearance here, but at the last second, I grabbed the camera and took one hurried pic. Bad lighting, bad presentation, but great food.
Can't wait to try some stir fry on the Egg tonight.