I picked up an interesting piece of meat this weekend at the farmer's market I regularly sell pens at. It was a tri-tip, but it was from a buffalo (a Canadian bison, if you want to get picky). It was similar in shape and size to a beef tri-tip, but there was absolutely no fat in the meat whatsoever.
Since it was a nice day yesterday, I figured I'd try Steven's Santa Maria Tri-Tip recipe from BBQ USA. I also had a bit of rub left over, so I tried it on a very small prime rib roast - more like a big bone-in rib-eye steak, actually.
Here's how it went:
First things first - I figured I'd try out a different lump charcoal than my usual Maple Leaf or Royal Oak. I didn't like the small piece size of Kingsford Charwood for a start, but more later.
Here's a shot of what I use to start my chimney these days.
500,000 BTUs does a
really
good job of starting a chimney. This one was fully lit almost all the way through after a 20-second burst from the torch. Sorry, but I only have one set of hands so there are no pics of me actually lighting the chimney (it did happen, though).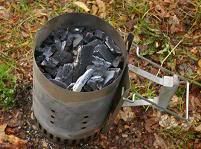 3 minutes later, it was almost ready to go, and 3 minutes after that it was completely lit and the 3-zone fire was almost set up. You can also see my smokestack mod in the left-hand picture - that's a standard 3" duct elbow and it does a marvelous job - I like it a lot better than currugated ducting.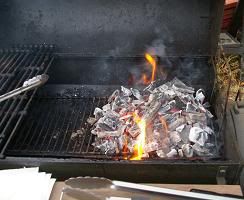 That's the tri-tip in front and the supersize rib steak in back. It looks like a lot of rub on the meat, but it's not.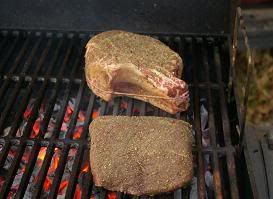 5 minutes into the cook, and here's a reason why I love cast-iron grills. I liked the grill marks so much I had to try two shots of them.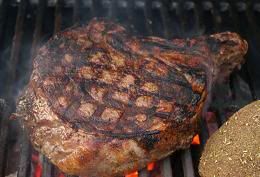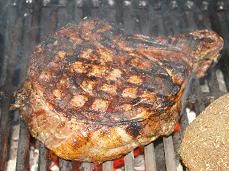 After a few minutes more I started getting flareups from the fat in the roast, so I figured I'd try something. I opened the side firebox lid and smokestack lidf all the way and then closed the lid of the main chamber. This created a convection current, as you can see by my two add-on thermometers on either side of the MC lid (the smokestack therm is on the left and the one under the coals is on the right). This did a great job of cooking the meat indirectly and helped avoid flareups.
And finally, the finished product! No pictures of the rib bone, though, as it's already gone.
The supersize rib steak (OK - so it was a small roast
) was fantastic. The tri-tip was also very good - the crust was a little bit tough, but the center of the meat was very tender. A bit of marbled fat might have made it even more tender, but buffalo is super-lean so you get what you can.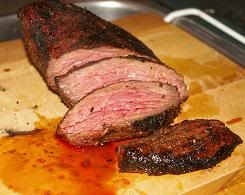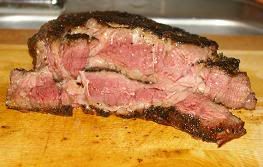 I think I'll finish off that bag of Kingsford Charwood and switch back to my other brands. There was a bit of an off-taste to it, and the stuff burned up very quickly. It threw a lot of heat (enough to burn off the seasoning on the grates, in fact), but that heat only lasted for about half an hour and the coals were dead in twice that time. I'm used to a lot longer burn times from the Royal Oak and Maple Leaf brands of lump I normally use. I can't justify the extra price for Kingsford lump as it seems to me to be an underperformer, and I'll use it for burgers and small cooks but I won't be buying it ever again.
I expected the buffalo to taste a bit sweeter than the beef, but this happens more one fattier pieces than on tri-tip. The piece I cooked was excellent, though, and I think I'll try it again sometime. As for the rib steak (aka. roast), it was pure heaven - I'll be cooking these more often, and the next one I think I'll try a reverse sear.