Just west of Belvidere, Illinois at the corner of Business Route 20 and Beaver Valley Road is a seasonal barbecue place called The Smokin' Coop. There's no indoor seating and hours are Mon-Sat, 11-7.
Years ago it was a go-kart track called Family Funland and the main cinderblock building is a holdover from those days, while I think the covered dining area is a more recent addition.
I had to lean around a post to get the board. In real life it's actually straight and level and features a decent number of selections without trying to have everything for everybody. As an aside, the ham and turkey sandwiches both use smoked meat.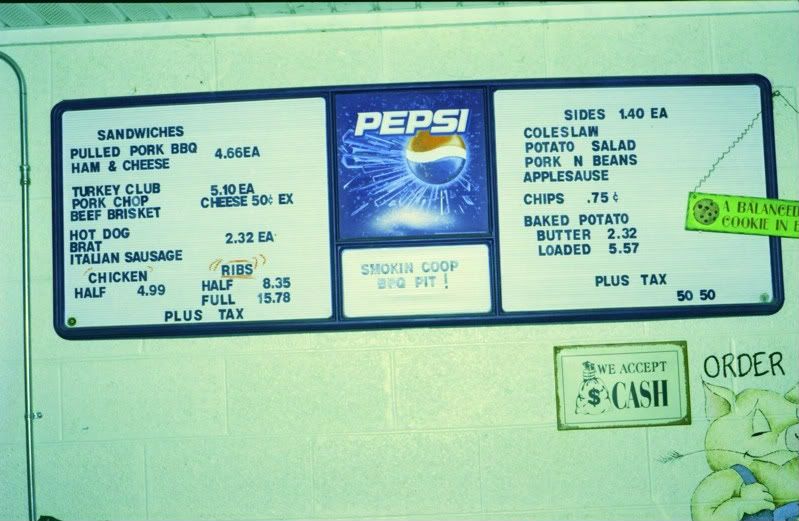 I felt like eating light. Going clockwise from 12:00 are Rockford's famous Mrs. Fisher's potato chips, a buttered bun, pulled pork, brisket, a half chicken, and a half rack of back ribs. Ordering a Diet Pepsi would've just been silly.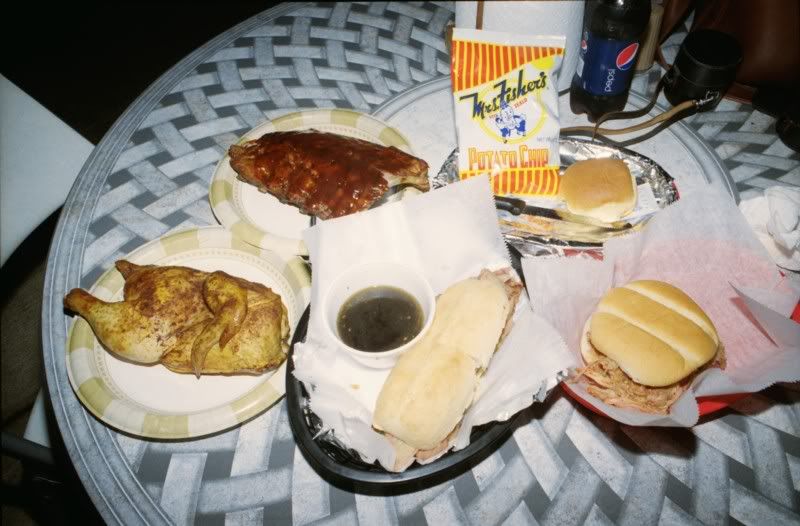 Brisket served like it's French dip? Don't knock it 'til you've tried it. I think I liked the brisket best but it was also the first thing I tried, so maybe I'm a little biased. Regardless, it was good bare, on the sandwich, and dipped and I think it was the smokiest of the 4.
The pulled pork was mild and mixed with a slightly sweet sauce. It was good but I like my pork with a lot of bark mixed in, so I need to remember that for next time.
The rib meat pulled cleanly from the bones but it wasn't mushy. They come sauced unless requested otherwise, but since they weren't drowning in sauce I was able to get a taste of some dry meat. I brought some of everything home as leftovers and my wife really liked them.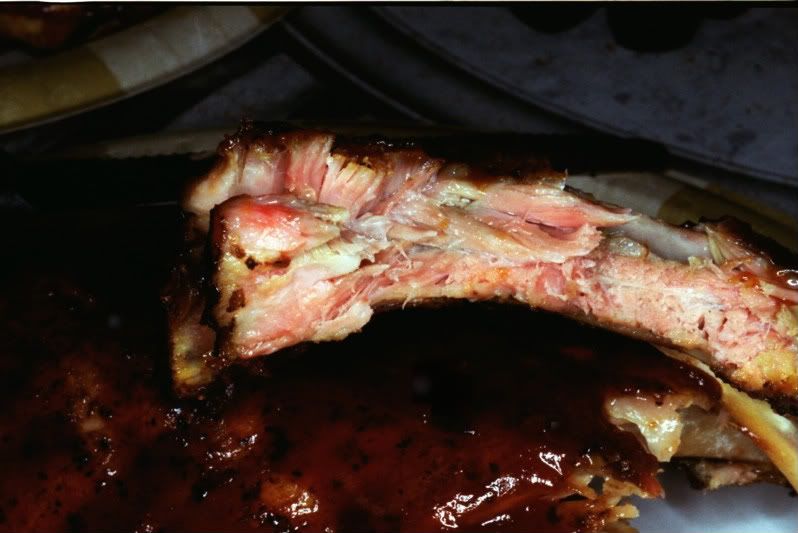 The chicken had a nice light smoke flavor that wasn't overpowering, and was plenty moist. People who say they don't like smoked foods might change their minds if they try it.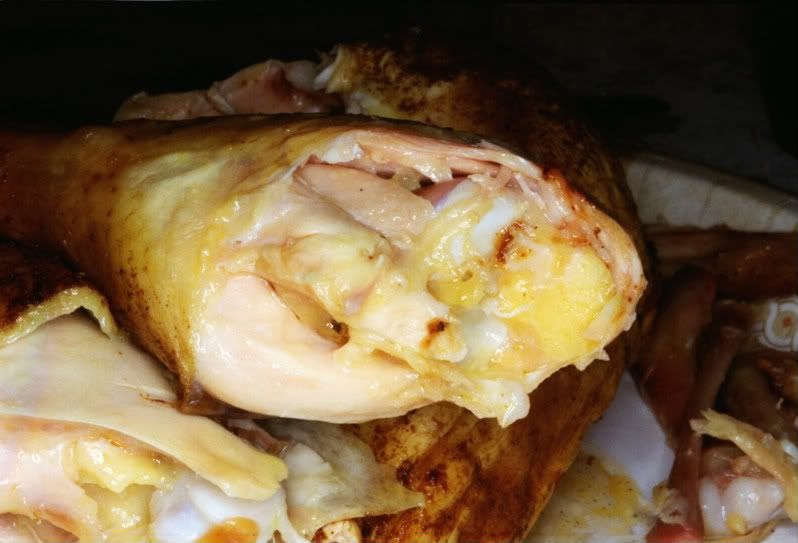 There's also a cinderblock pit that's used for whole hogs; it was in use when I was there but I didn't get a shot.
It's a family business in its 7th year and the owner/pitmaster is Jim Cooper, shown here with his granddaughter and his daughter Carrie. I was the first customer of the day and he was nice enough to spend some talking with me. He commented that his wood mix uses less hickory than one might expect to find down south, which reinforces my belief based on personal experience that light smoke is popular in this part of the country.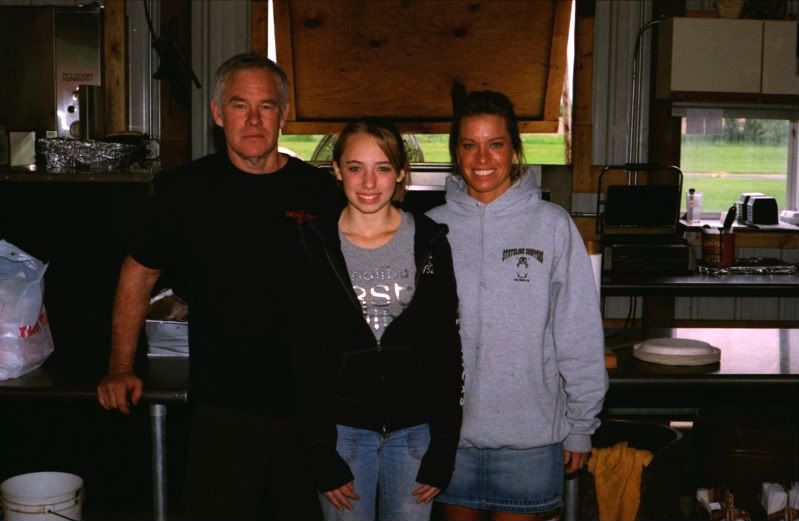 You might've noticed that I didn't say anything about the side dishes; that's because I didn't have any. I was up at 6:30 this morning and hadn't eaten anything by the time I got there shortly before 11, and once I saw the left (meat) side of the menu board it was all over. Frankly, I'm a little surprised that I stopped at 4 selections.
I'm no barbecue expert but I know what I like, and I liked what I ate today. Unfortunately distance will make it tough for me to visit frequently but hopefully I'll get at least 1 more chance later this year.
Brad