The general rule for lighting a chimney starter is to use crumpled newspaper or a paraffin starter. However, crumpled-up newspaper leaves flaky ash all over your driveway or yard, and paraffin starters can melt and leave wax on whatever surface you are lighting the chimney on. If that's your grill grate, that means you can leave a bunch of flammable wax on the grates and sometimes on your food, and the wax can flare up and melt off, and take your hard-earned grill seasoning with it.
Anothert alternative is to use your side burner or a separate butane burner to light your chimney, but that can be quite dangerous. The bottom of a lit chimney can reach quite high temperatures - I've measured my Weber chimney and got a reading of 550° F. Sustained heat like that may or may not damage the burner (or worse) - I''m not one to take chances.
A simple alternative can be found in the old Boy Scout Handbook (mine is from 1960 or so). It's called the "Buddy Burner" and it's part of the old tin can stove you may have seen in the same book.
NOTE: A lot of low-cost backpackers and preppers are now using the same idea for their "Hobo stoves" (some of whom are claiming it's "new", but that's just not true). Besides - this isn't a "survival candle" like those sites describe. This is a firestarter meant to throw a high flame with a lot of heat.
The idea behind the Buddy Burner is simple - it's basically a big candle.
Here's what you'll need to make one:
tuna can
lid from tuna can
cardboard box
parrafin wax (or beeswax if you can afford it)
heavy-duty scissors or a good utility knife
double-boiler (for melting wax)
Start with a simple tuna can or something similar.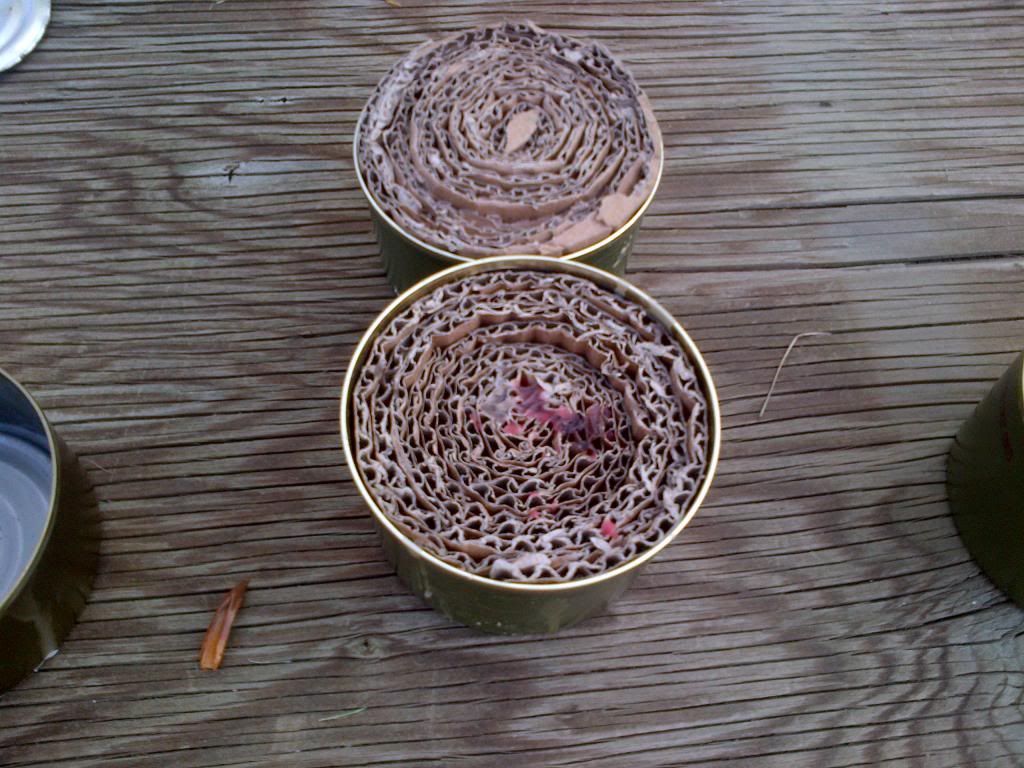 Cut the cardboard box into strips and pack the whole can full. Try to keep the strips even - the can on the bottom is a good example, while the can on top isn't great.
It's important to pack the whole can full. Many "survival candles" use just a few circles or rings of cardboard and then fill the rest of the can with wax. This makes for less surface area to burn so even though the burner lasts longer it throws less heat (which is what we need to start a chimney).
Use a double boiler to melt the wax, and pour it over the cardboard in the can. In this example the middle of the burner is absorbing the wax. What you don't see is that the wax is filling up the spaces in the cardboard from the bottom up.
It's important to use a double boiler for melting the wax. Direct heat can cause the wax to melt too quickly and then boil. Once that happens the wax can ignite and set your entire pan on fire.
Parrafin wax is good for these burners. Beeswax is also excellent as it burns longer, but it's very expensive and it's better suited to other uses.
The wax I'm using is an assortment of beeswax and paraffin and other scrap wax - this is from old candle stubs and from my own candlemaking efforts.
Pour slowly, and you will see the wax eventually fill the whole can. Once that happens, stop pouring and set the burner aside to cool.
You can use all sorts of cans, but flat, wide ones are best. On the left I've used the small lunch-sized tuna cans. In the middle are regular tuna cans (both flat-sided and tapered), and on the right are slightly larger cans for water chestnuts and other fruits and veggies.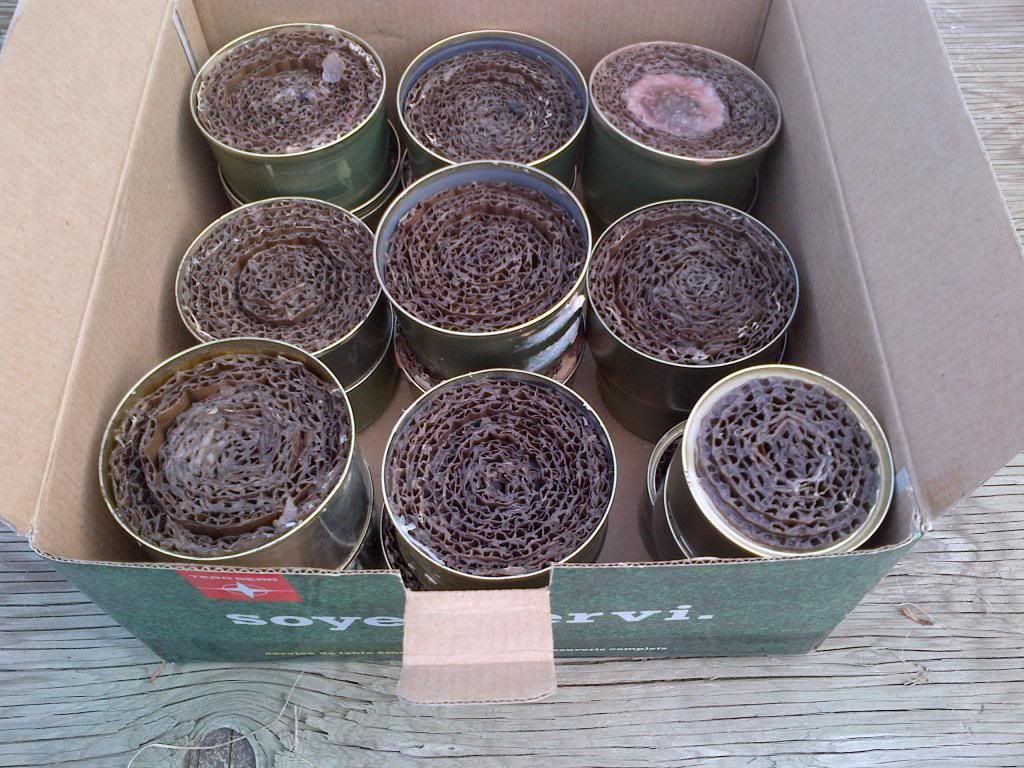 And here they are boxed up for storage. I made all of these in the space of about 45 minutes from start to finish and they're enough to last for years.
To light, simply hold it sideways and use a lighter or match to get it started. Initially some of the spaces in the cardboard may fill up with smoke, but you can ignore this.
In less than a minute, you will have a huge, sustained flame. Place your chimney over the burner and let it sit for a few minutes.
If you run low on wax, you can also drop a square of it right on top of the burner. It will melt into the bottom and replenish the wax.
So how do you extinguish such a big flame when you're done? Blowing it out doesn't work well at all, but you can use the tuna can lid as a damper to snuff out the flames immediately. Let it cool for a few minutes before handling to let the wax solidify again.
So - I hope you've enjoyed this tutorial. Have fun grilling!