Few days ago I said good-bye to an old friend as I watch my Treager grill being hauled off. Yes, I sold it because I have not used in three years and it was time to give it up.
Today I welcomed a new friend and long awaited reunion
If anyone remembers my old post about Souvla and Greek (Cyprus to be exact) style of BBQ:
http://www.barbecuebible.com/board/view ... ght=souvla
It's been over 2 years of searching and I finally found me a U.S. supplier
http://kabobeque.com/
The grill is well built and assembly was so easy. It's very versatile and portable, so I can take it camping with me any time.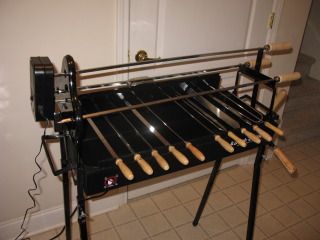 This grill is not only good for Kabobs and Souvla, but I can also do churrasco style grilling, Taco al Pastor, Gyros, Souvlaki or any other Rotisserie cooking.
Can't wait to give it a try