Last week Mrs. Chicken and I visited her parents in northern Arkansas and I had the opportunity to visit
K.T.'s Smokehouse
in nearby Gassville. I had previously tried to visit during Thanksgiving 2009 but they were closed, so this time it was a priority.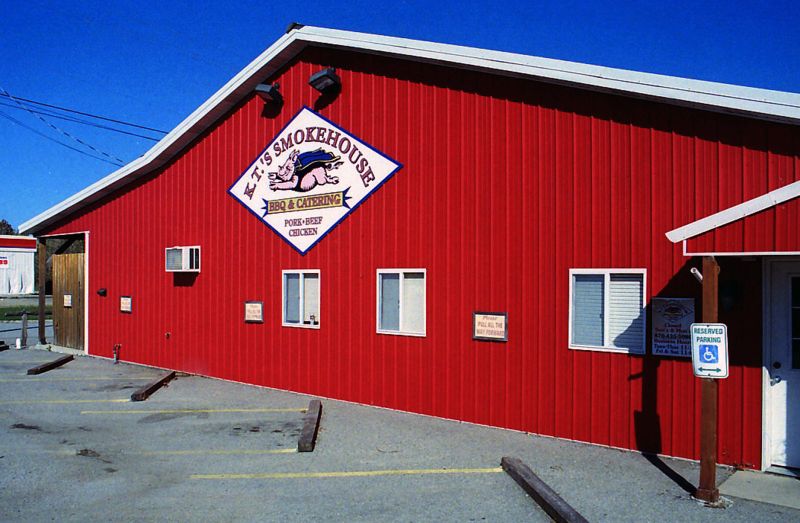 It's tough to tell in this photo but the BBQ sign on the roof is neon. The building was damaged by the 2010 tornado (photos on the Facebook page) that struck Gassville and I believe the sign was added as part of the repairs.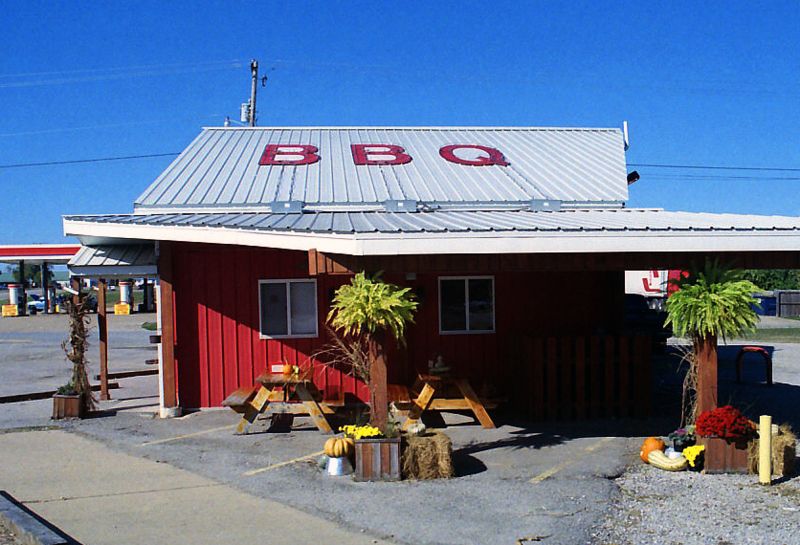 The menu offers items besides barbecue but they were of no interest to me.
The dining room isn't huge but can easily handle a small crowd.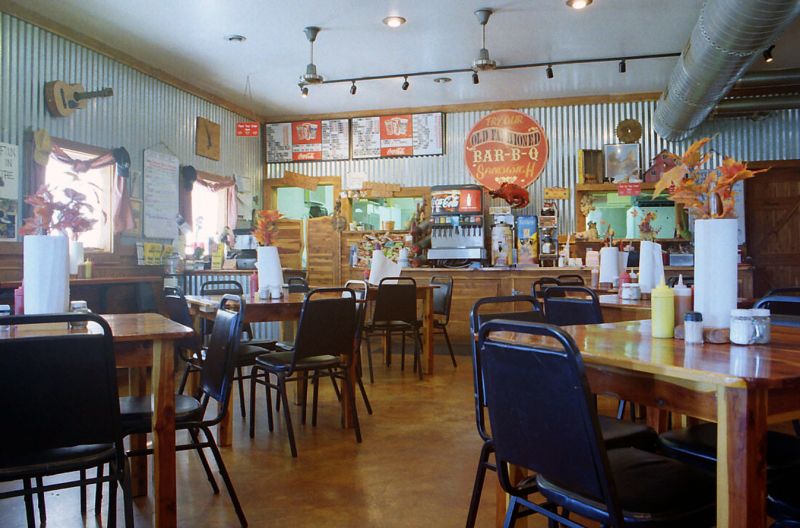 There are 6 meats offered: ribs, pork, sliced brisket, chicken, ham, and sausage. I chose the 2-meat plate with brisket and sausage and the 4-rib Friday special. K.T.'s offers original, sweet, and hot sauces and that's original that's drizzled on the brisket; I liked it enough to buy a 1/2 pint container to take home.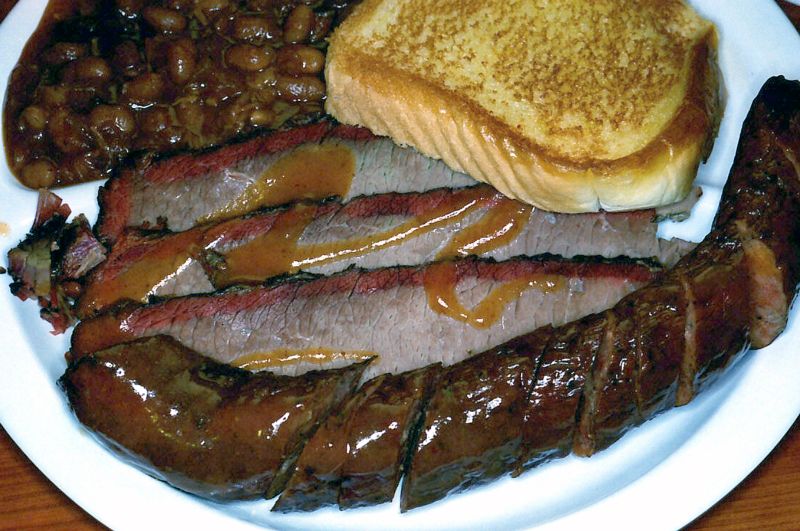 I really liked the mildly spicy sausage (I used some leftover pieces in chicken & rice soup and it was a great addition) and the ribs were decently smoky (and as dark as I make them at home) and tender. I didn't need a knife for the brisket and it had a good beef flavor, but I would've liked it with a bit more smoke. Then again, Arkansas is pork country!
Fortunately our visit lasted several days so I was able to return the next morning and knock chicken, pork, and ham off the list.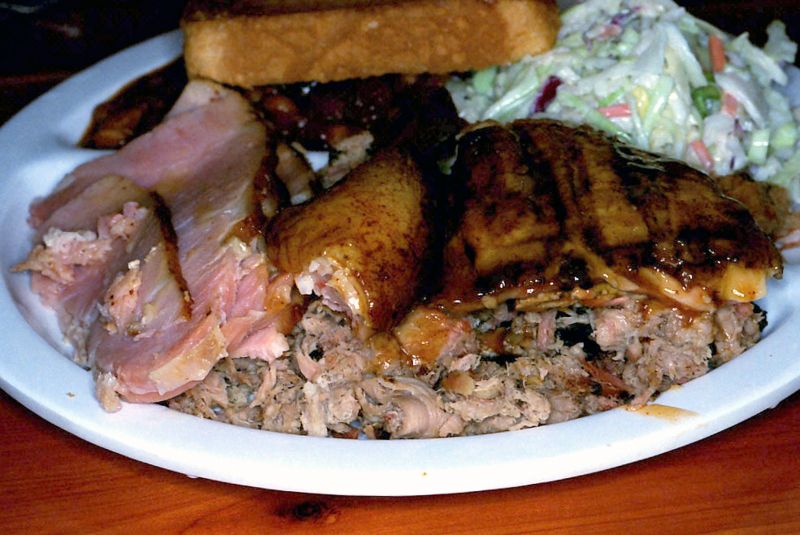 The chicken had a light, subtle sweetness so it might've been glazed but it was also nicely smoked like the ham and pork. I finished the ham and took the thigh and some of the pork home as leftovers, where they met with approval from Mrs. Chicken.
For the sides I chose beans both days and got coleslaw and sour cream potato salad to go.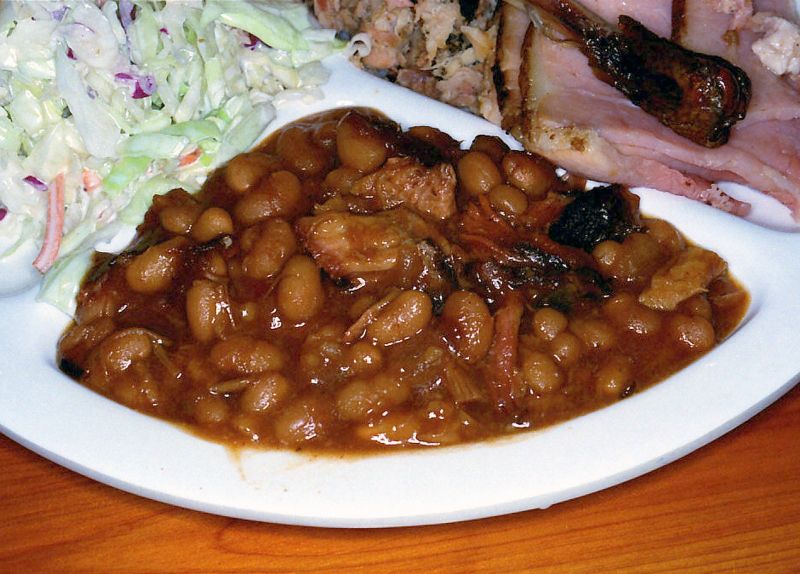 While I don't know if the beans were 100% house-made I really liked them because they weren't too sweet and had nice amounts of meat instead of just a shred or two. In fact, each day I finished them first. Mrs. C reviewed the slaw and salad and liked the former because it wasn't too mayonnaise-y, but didn't quite care for the latter.
Last but definitely not least is the excellent service I received. My orders arrived quickly and while I failed to get the name of the woman working the counter she treated locals and strangers with the same level of friendliness and care, which really helped make my visits enjoyable.